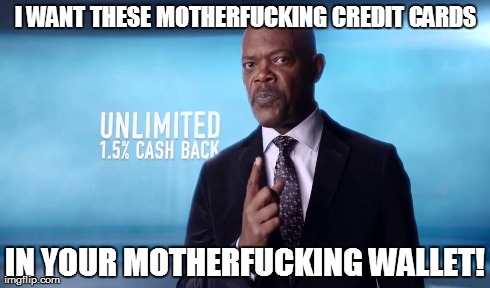 Heed the advice of Mace Windu and check out these cards:

Quicksilver Rewards Credit Card
QuicksilverOne Rewards Credit Card
With 1.5% cash back on every purchase, every damn day, the Capital One Quicksilver Rewards Credit Card is a no-brainer.
Its little brother, the QuicksilverOne Rewards card, also offers unlimited 1.5% cash back on every purchase, but unlike it's big brother, the QuicksilverOne card has an annual fee of $39 and a high 22.9% APR. Nonetheless, it's still a good card if you have average credit and can't qualify for the Quicksilver Rewards Credit Card.
Remember:

The path of the righteous man is beset on all sides by the inequities of the selfish and the tyranny of evil bankers. Blessed is he who, in the name of charity and good credit, shepherds the weak through the valley of debt, for he is truly his brother's keeper and the finder of low interest rates. And I will strike down upon thee with great vengeance and furious anger those who attempt to poison and destroy my credit score. And you will know my name is Samuel L. Jackson when I lay my Quicksilver Rewards Card upon thee.